Who is the King of Cricket?
Right now, the India vs. West Indies Series 2023 is underway. In fact, cricket fans are eagerly watching to see who is the king of cricket in the world. As young, up-and-coming cricketers get their chance on the national team, some are struggling to make an impact. On the other hand, others are making a name for themselves with outstanding performances, aiming to become the top player.
You can even play fantasy cricket on 11ic and have a shot at being the ultimate fantasy cricket champion!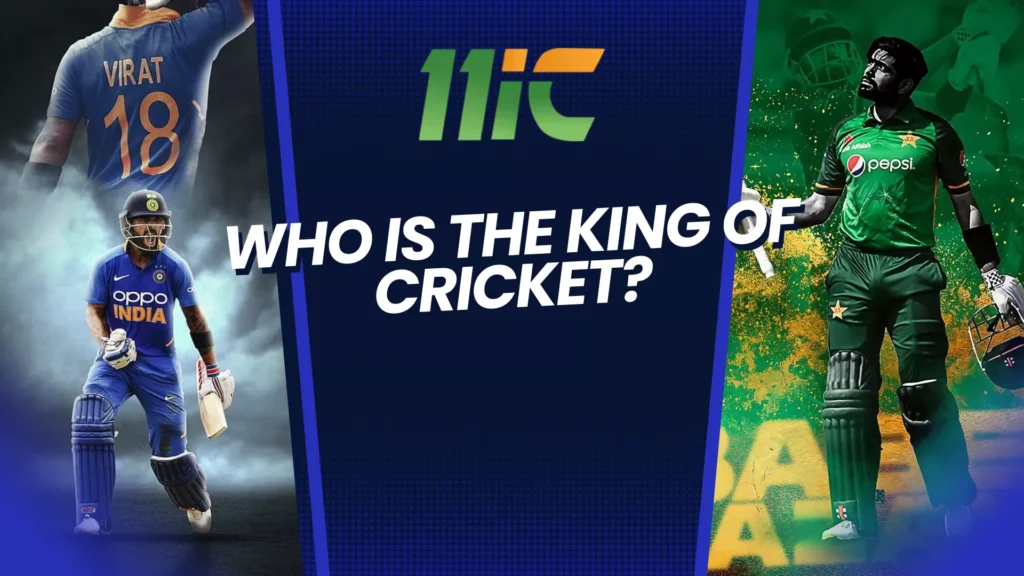 Babar Azam: Setting New Cricket Records
During the Asia Cup Super 4 match against Bangladesh, Babar Azam, Pakistan's ODI captain, achieved a significant feat. Despite scoring a modest 17 runs from 22 deliveries, he reached a remarkable milestone in fifty-over cricket. Babar is currently ranked as the number one ODI batsman. The 28-year-old surpassed the legendary Indian cricketer Virat Kohli. This is by reaching the 2000-run mark as captain in ODIs in just 31 innings. This accomplishment now makes him the quickest captain to reach this milestone. Surpassing Kohli's 36 innings.
Babar Azam's rapid rise to this record underscores his exceptional batting skills in recent years. He assumed the role of Pakistan's ODI captain in 2019 and has since emerged as one of the top batters in modern-day cricket.
Babar Azam made his ODI debut for Pakistan in May 2015 against Zimbabwe and has since established himself as one of the finest batters globally. In a recent Asia Cup match against Nepal, he showcased his prowess by scoring his 19th ODI century. Bringing him closer to Pakistan's batting legend Saeed Anwar, who holds the record for the most centuries by a Pakistan batsman with 20.
Fastest to 2000 Runs: A Notable Achievement
Here's the list of the fastest captains to reach the 2000-run mark in ODIs:
Babar Azam – 31 innings
Virat Kohli (India) – 36 innings
AB de Villiers (South Africa) – 41 innings
Michael Clarke (Australia) – 46 innings
But who truly reigns as the cricket king? To earn this title, players must maintain their excellence at the highest level for a long time. It is no easy task in today's demanding cricket landscape. Yet, a select few have proven their worth and gained the respect of fans.
In the following list, we'll discuss the top four individuals. On this list are currently considered the best and reigning kings of cricket worldwide.
India's Cricket King Virat Kohli is undeniably the king of cricket in India. With an impressive 25,322 runs across all T20, Test, and ODI formats in international cricket. Kohli is famous as "King Kohli" for a reason. He holds a special place in the hearts of Indian cricket fans, and despite a recent dip in form, he's still regarded as one of the game's greatest players. Kohli has an unmatched technical prowess. His cover drives are a sight to behold. He prefers to build his innings and has the temperament to go the distance. Kohli is one of the few batsmen who average over 50 in all three formats of the game, making him a true cricket king. Maintaining an average of 57.32 over 274 ODI matches is no small feat, and he also boasts averages of 49.30 in Tests and 52.74 in T20s. A strike rate of 137.97 in T20s is a matter of pride.
Pakistan's Cricket King Babar Azam, the captain of Pakistan's cricket team. He has emerged as one of the greatest contemporary batters and has the potential to become number 1 in all three formats of the game. At just 28 years old, Azam is a young talent who excels in both ODIs and T20s. In Test cricket, he ranks 3rd, with only K. Williamson and T. Head ahead of him. Azam boasts an impressive Test average of 47.86, coupled with an outstanding ODI average of 59.17. He has the adaptability required in today's fast-paced game, as evidenced by his strike rate of over 127 in T20s. Azam is a shining star among the younger generation of cricket leaders. Poised for a bright future as he aims to claim the title of the world's best cricketer.
After relinquishing his leadership role, Joe Root now plays with newfound freedom. Undoubtedly causing concerns for his opponents. One can genuinely hail him as a cricket king. Excelling in both Test and ODI formats, boasting an average of over 50 in ODIs. Root is also making strides in T20 cricket, maintaining a strike rate of over 120, showcasing his adaptability to the game's demands.
Despite his age of 36, Rohit Sharma, the Indian captain, remains a cricket great, particularly in limited-overs cricket. Sharma plays an aggressive game, fearlessly taking on bowlers who rely on bounce. His cover and straight drives are a treat for cricket enthusiasts. Although injuries have affected his ICC rankings, Sharma's skills remain undiminished in all formats.
In Test cricket, Sharma has amassed over 3000 runs in just 52 matches at an average of 45.66. He's a seasoned campaigner in one-day internationals. He has amassed 9825 runs in the format, currently ranking 10th among ODI batsmen. Sharma's prowess could be the key for India in the 2023 ODI World Cup.
As the Asia Cup progresses towards its critical phase, Pakistan places its hopes on Babar Azam's batting brilliance. The team is preparing for a highly-anticipated showdown with their arch-rivals, India, in their second Super 4 encounter. This match marks a rematch between the two cricketing powerhouses. Following their recent clash in Kandy. Unfortunately, rain disrupted the previous game. This led to its cancellation shortly after India's first innings, They were able to score 266 runs.
After the clash with India, Pakistan is set to face Sri Lanka in their final Super 4 match of this edition. These upcoming matches hold immense importance. With Babar Azam's performance being crucial as Pakistan aims for success in the tournament.